You just received a meeting invite by email and noticed the join Microsoft Teams meeting link with details included in the message. You might think to yourself, I don't have the software (do I)? Will I be able to join? I don't want to be late, do I need to download something? Can I access it on my phone? What if I'm working on a Mac? Will I be successful working remotely with this group?
We will go through each of these situations along with the options you will have to join Microsoft Teams meeting. Working backwards from easiest to more challenging, this will get you back to working remotely with confidence.
Do I have the software?
There is a chance that you are already ready to go. Do a quick check to see if the Microsoft Teams Downloads has already been installed on your computer. The simplest approach is to click on the link in your email invitation, "Click here to join the meeting".

If you see a popup asking if you want to open the program then this is a good sign. This allows you to click on the option to open the program but this will trigger the start of the meeting AND notify the meeting organizer. Usually this usually a big deal but if you are trying to present a professional image, you might not want to start the meeting several days in advance. It could send the message that you don't know what you're doing which is not a good idea when working remotely.

Options to join
You should also see a browser window open up with three options:

This first option is a quick way to get to the Microsoft Teams Downloads page and install the program.
The second option is actually a pretty good one because contrary to popular belief, you DON'T have to install Teams to join Microsoft Teams meeting! If you choose to go this route, you will be using Microsoft Teams Online to access your meeting. Give yourself an extra 10 minutes prior to the meeting to make sure your browser is able to connect to the meeting.
There is a strong possibility that you might already have the software installed. If you'd prefer to be a little more sly and confirm for yourself in advance that you will be ready for the meeting, pick the type of device you will use to attend the meeting and check to see if you already have Teams installed.
Windows Operating System

There is a chance that you are already ready to start working remotely using Teams. If you are using a desktop or laptop computer running the Windows operating system, go to the bottom left corner where it says Type here to search and type Teams. Click on Teams from the search results and you will see that you are fully prepared to start using the software when the time comes to join Microsoft Teams meeting. If you don't see it as an option then it'd be best to download it in advance to make sure you have full functionality.

What if you are working on a Mac?
MacOS Operating System

Similarly you can click Finder on a Mac and then Applications on the left side menu to search for Teams. Not a problem if you don't see it, you can download and install the software for free.

You can always just skip this and use Microsoft Teams Online. This is a great option if you primarily use other video conferencing systems and don't intend to use the software that frequently.
Chromebook

Yes, even you Chromebook users can get in on the action with this very functional virtual meeting software. Click on the dot in the bottom left to open Launcher. From here you can search for Teams. If it is not already installed, go to the Google Play store to download and install the software for free.
Mobile Users – iOS

Not to fear mobile users, there are options for you as well. On an iPhone, slide to the first panel and search Teams. Just like any other app, if you don't have it you can go to the App Store to download and install it in seconds.
Mobile Users – Android

I could not finish this section without letting the Android users know that they can join in on the fun as well. Slide up and use the Finder search bar to see if Teams is already installed. If not you can download and install it from the Google Play store for free!
This might seem silly but part of the reason for spending time pointing out all the operating systems that have available Microsoft Teams downloads is to really drive home the point that it is a readily available tool for working remotely with a wide variety of individuals.
Do I have a Microsoft Account? (optional)
When I ask the question, do you respond with a question? Do I have a Microsoft Account?
It is not required that you have an account but there are some benefits to logging in, especially if you plan on working remotely for the foreseeable future. Once you complete the Microsoft Teams downloads, you will want to login. This is going to be a free account and it's easy to create. If you are working on a desktop or laptop computer running the Windows operating system then there is a chance you already have one. An easy way to check is to go to the bottom left corner next to the Windows icon. Where it says Type here to search, type Control Panel and hit Enter. Among the options is User Accounts, click on it and you will see your account information. If you see an email address then congratulations! Do I have a Microsoft Account?? YES!!

You may see that it says Local Account under your user name. This tells you that you are using an offline local account. No problem, just create one with your preferred email address when asked if you'd like to login.
Video & Audio Check
Making sure you can join Microsoft Teams meeting is one thing, but will you be able to see and hear when you get there?
Just before you are added to a meeting, Microsoft allows you to perform a video and audio check. However, it might be a good idea to do this in advance. Especially if you are using external webcam, microphone and/or ear buds. An easy way to do this is to create a "test" meeting and invite yourself. You will see this window to "Choose your video and audio options":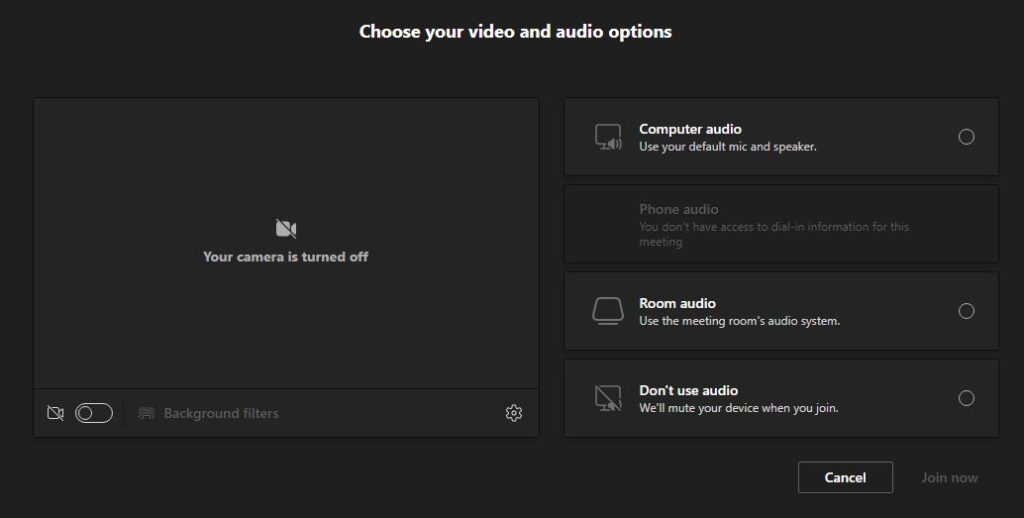 Turn on your camera and try a few of the Background filters. This isn't necessary but it can be fun! You can simply blur your actual background, select from one of the many background images provided or upload your own images to customize your environment. Consider a little branding so a larger group knows who you are and with which company you work.
Pro tip: Don't get too crazy with the background image because it can be very distracting to the other meeting participants. Also, the video cutout of you will work better if you have strong contrast between yourself and your actual background or chair. This is not the best time to go large with your hair either!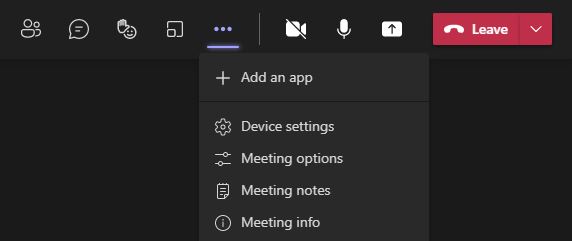 Now for the audio check. Join your "test" meeting and click on the three dots or ellipsis to open a dropdown menu. Click on Device settings and your Audio devices will appear. Say something and if Teams is set to the correct microphone, you will see the bars under the Microphone section light up. That's your quick audio check.
Now… Join Microsoft Teams Meeting
Your meeting starts in 10 minutes and you are ready to go. You have the Microsoft Teams downloads installed, you have already done a video and audio check, you like the background you have selected and you are excited to start working remotely with Microsoft Teams. Have fun!
Pro Tip: Did you skip everything above and are now scrambling a few minutes before your meeting to figure out how to join? No worries, use the Microsoft Teams Online option by clicking "Continue on this browser". It does the job in a pinch!